Blackfabric team attended at the GALACTICA Final Event, celebrated on the 16th of February at the impressive Barcelona World Trade Center. This event gathered Europe's most active impact investors and stakeholders in the DeepTech, and awarded the winners for the different Galactica project categories, thanks to EBAN (European Business Angel Network) Impact Summit.
Amazing speakers based in different sectors talked about the importance of innovation, circularity and entrepreneurship in the aerospace and textile industry to overcome the different difficulties and challenges that the industry presents. Moreover, a discussion table about sustainability and circularity in the textile industry was carried out by experts in this field. They discussed about the different challenges that we need to overcome and how the European industry is expected to progress in the next years.
Galactica project supports the creation of new industrial value chains around textile, aerospace and advanced manufacturing.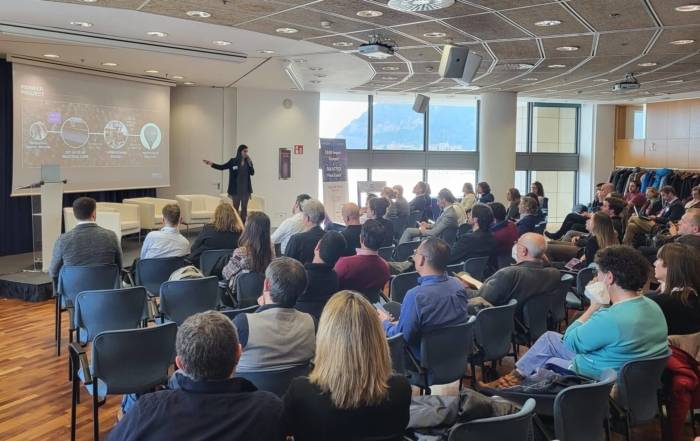 Marina Ginestà during the pitching competition.
During the final event, Blackfabric was part of the Pitching competition where Marina Ginestà, defend our project developed in the framework of the Galactica project; " RCF; The first bidirectional fabric made with recycled carbon fibers." During her speech, she referred to the difficulty of obtaining this fabric, and its novelty being unique in the current market. Blackfabric has the aim of conquering the aeronautical sector in the coming years for all applications without high mechanical specifications such as tables, seats, frames…
After deliberation, the jury awarded Blackfabric as the runner-up in the Textile category of the Pioneer projects, endowed with €7,000.
Blackfabric team collecting the prize
Blackfabric also participated in the poster competition, with the aim of presenting the activities done within the framework of the Pioneer project carried out thanks to Galactica funding. In the design you can see all the tasks carried out during the project, and the results obtained together with the conclusions.
You can download the poster in the attached pdf
Blackfabric team in the Galactica Final Event