New monitored mould for controlling the thermoforming process of its organosheets.
Blackfabric has in its facilities  hot plate press to check the quality of the materials, make demonstrators, prototyping and short series production.

As a manufacturer of fibre reinforced thermoplastic prepregs, which is semi-finished product, Blackfabric needs to be able to manufacture the finished product in house in order to verify its quality, make prototypes and check its properties. For these reasons, Blackfabric has in its facilities a hot plate press with a thermocompression mould is needed to do the thermoforming process, and move from an unconsolidated material where the fibre and the matrix are loose, to a fully consolidated material where there is a bond between the thermoplastic matrix and the reinforcing fibre.
A new monitored mould has been developt for achieving a well controlled thermoforming process of the fiber reinforced thermoplastic prepregs, getting as a result consolidated organosheets. The manufacture of this mould has been thanks to the support of ACCIÓ project of the Generalitat de Catalunya, based on a defined digital transformation strategy, with advice on the integration of industry 4.0 technologies together with Eurecat technology centre.
Within the framework of this project, it has been possible to develop a mould for the manufacture of standardized flat plates of 270x270mm of different thicknesses. The mould incorporates a temperature sensor inside, to be able to control the temperature of the material inside the mould during the thermoforming process. It also incorporates a pressure sensor, in order to ensure the good quality of the piece produced, adjusting each material with different pressure levels to define the acceptable range.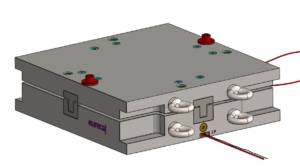 The sheets manufactured are necessary for the quality control of the different materials and products produced by Blackfabric. Therefore, they must meet technical specifications to be able to perform mechanical tests, defined by different regulations, in order to test and characterize the materials.
The sensor moulding allows to have an in-situ quality control during the manufacture of characterization plates, and also allows to carry out advanced studies of optimization of the consolidation process for each material assisting customers in the development of their ideal thermoforming process.