Currently in Europe we are in a situation of change, where the highest priority for the vast majority of industrial sectors, and the main topic at all decision tables is without a doubt; sustainability, climate change and the CO2 footprint that we are creating. Concepts that sound all over the world and that will become more and more important every day everywhere.
One of Blackfabric' s main goals is to bet in sustainable alternatives; increasing the use of environmentally-friendly options in the composites sector versus conventional composites, offering dry fabrics and bio-composites made of natural fibers and/or bio-based polymers. In Blackfabric' s natural fibers production line you can find dry fabrics and thermoplastic prepregs too.
 
Flax dry fabrics can be manufactured with the costumer desired structure, areal weight and the width needed. The dry fabrics are suitable for all types of traditional impregnation with any type of resin and impregnation process. Spectacular and very beautiful surface finishes can be achieved, that tend to attract the attention of the end consumer, in glamorous applications such as interior decorative parts of high-performance cars, or exterior parts of racing boats for example.
                                                                      Blackfabric customized dry Flax bidirectional fabrics
Blackfabric has taken a step further, offering natural thermoplastic prepregs, which already incorporate the fiber and matrix necessary to be consolidated directly without the need for additional impregnation processes. We've designed a 100% bio-based thermoplastic prepreg, weaving flax natural fiber as reinforcement, and laminating a poly-lactic acid (PLA) film as matrix. This is a fully flexible prepreg, which adapts well to complex geometries and is very easy to handle and cut.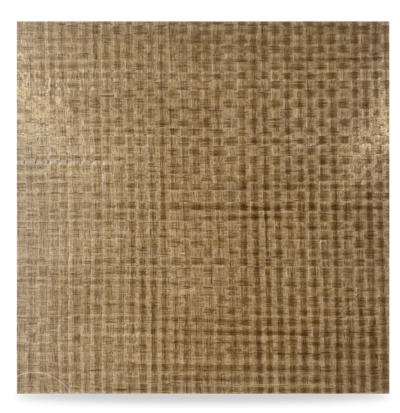 Consolidated FLAX/PLA sheet. 
 Another line of innovation is the wide flax tapes, which are impregnated with a thermoplastic matrix. In this case Polypropylene (PP), which melts at 190ºC avoiding burning the natural fiber. We achieve a great surface finish that is very different from all the existing solutions on the market, with technical and rustic look at the same time. We love this solution!
                                                                   Fabric and consolidated part made with FLAX/PP spread tows.
Flax has lower density than fiber glass and other reinforcement fibers and provides great absorption capacity, perfect for sound insulators. Moreover, flax fiber is 100% recyclable, renewable, biodegradable and compostable; it requires between 2 and 5 times less energy than the manufacture of other reinforcement fibers like glass fiber. Even though mechanically it does not have as good performance as carbon or glass fiber, it is a good substitute when customers are seeking for a more environmentally conscious material with good performance properties and visuals.
Flax is used in different sectors, including sports goods, naval and construction. In sports goods it is used in different fields such as tennis, surfing and biking. The use of flax in tennis rackets gives the article lightness and resistance, providing good torsion, flexion and at the same time good performance. In construction, flax is used in interior design thanks to its acoustically and thermally insulation properties and great aesthetics, and for structural reinforcement, such as isolating panels.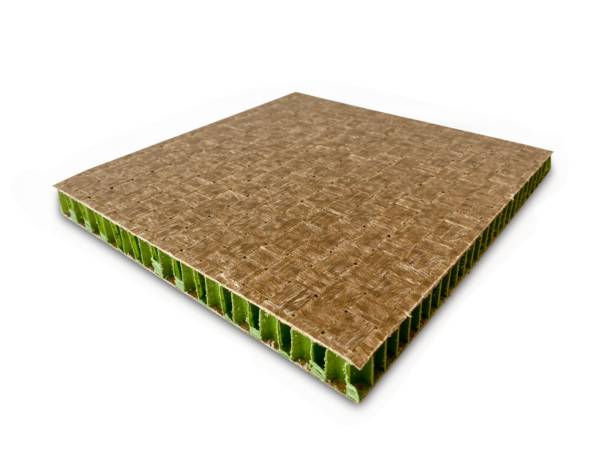 Thermoplastic honeycomb panel with FLAX/PP reinformcent